12 Nov 2021
How unlocking data silos can unleash a raft of benefits for event organisers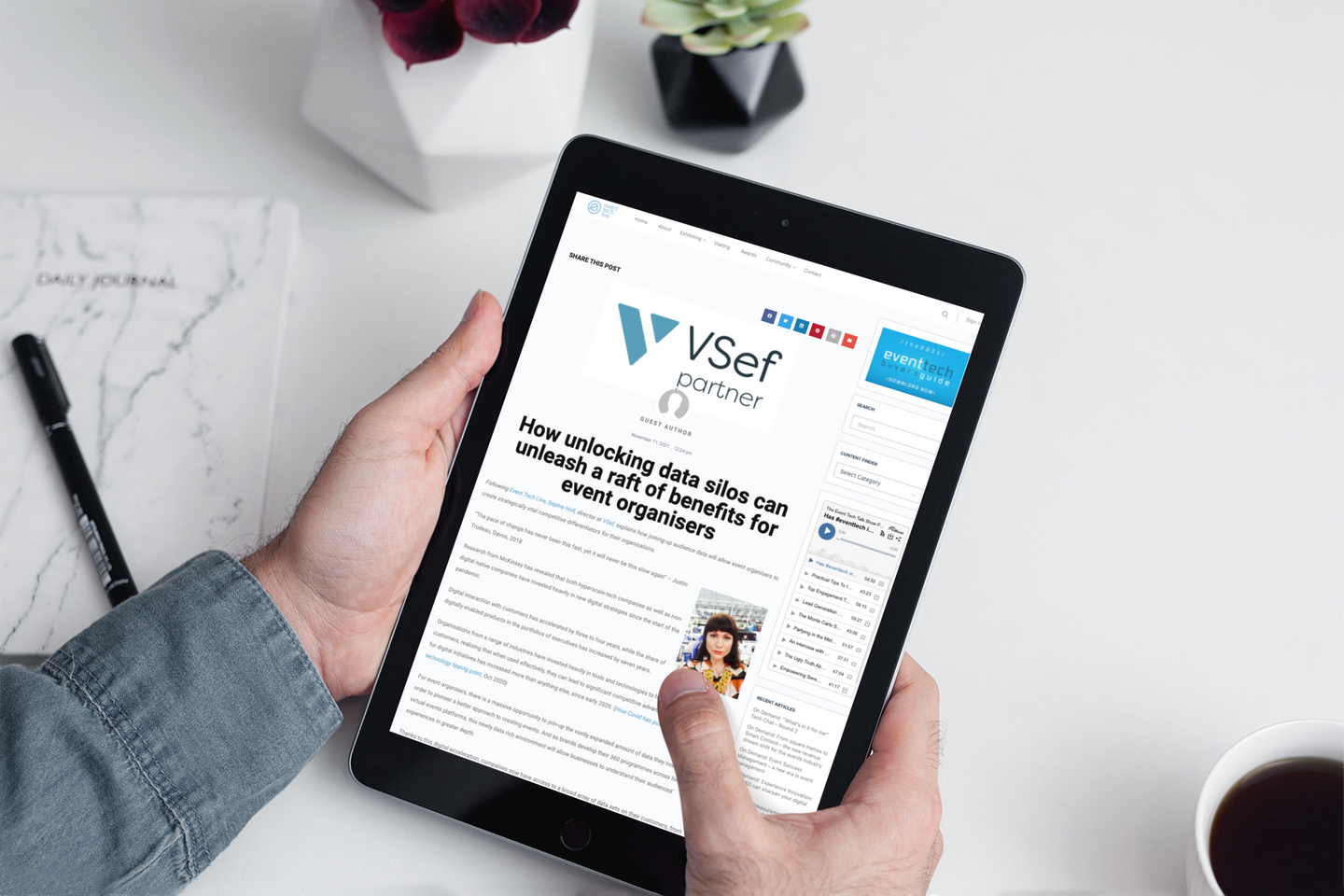 Following Event Tech Live, Sophie Holt, director at VSef, explains how joining-up audience data will allow event organisers to create strategically vital competitive differentiators for their organisations.
"The pace of change has never been this fast, yet it will never be this slow again" – Justin Trudeau, Davos, 2018
Research from McKinsey has revealed that both hyperscale-tech companies as well as non-digital native companies have invested heavily in new digital strategies since the start of the pandemic.
Digital interaction with customers has accelerated by three to four years, while the share of digitally enabled products in the portfolios of executives has increased by seven years.
Organisations from a range of industries have invested heavily in tools and technologies to help them understand their customers, realising that when used effectively, they can lead to significant competitive advantages. Remarkably, funding for digital initiatives has increased more than anything else, since early 2020. (How Covid has pushed companies over the technology tipping point, Oct 2020)
For event organisers, there is a massive opportunity to join-up the vastly expanded amount of data they now collect in order to pioneer a better approach to creating events. And as brands develop their 360 programmes across live and virtual events platforms, this newly data rich environment will allow businesses to understand their audiences' experiences in greater depth.
Thanks to this digital acceleration, companies now have access to a broad array of data sets on their customers, from social media activity to customer profiles and sentiment data. In the events industry collecting audience data is now ubiquitous, from registration through to post-event surveys, and the world of insight generation has been transformed with impressive developments in the ways it is generated, aggregate and analysed.
Using data also allows organisations to better measure and manage their audiences' experience, informing and improving strategic decision making. However, in many organisations, poor infrastructure has not been prepared for the rapid changes in the external environment and the plethora of ways in which data is collected has resulted in silos of information being created, hampering development.
But by freeing-up data across tech platforms and solutions, both exhibitors and visitors will derive greater value from their event experiences, as free-flowing data leads to greater insights.
Organisers with advanced systems will create substantial value through a wide array of applications and strategic planning, leading to real-time customer engagement. Standardising data across the organisation will lead to better decision making and more agility within the events industry, something that can only benefit organisations and audiences alike.