Any event organizer or platform that collects relevant in-person, virtual and hybrid event data can adopt the VSef/RSDE standards. It is free of charge.
VSef is a data file reporting format designed to streamline the collection and exchange of data within the events industry by establishing standard data structures and common naming conventions across event technology platforms. BPA has oversight of the VSef Standards and certifies organizations' compliance with the guidelines.
VSef data is made up of three core data types:
Metadata: Aggregate data about the event
Individual Participant Data:  Data about the event experience of individual participants of all types including (but not limited to): delegates, speakers, exhibitors, sponsors, and any other individual users present at the event
Individual Company Data:  Collective data about the experience of sponsors and exhibitors in relation to the event (sponsor is used to refer to both sponsoring and exhibiting companies)
Get the VSef Standards Guide 2.0 here.
The VSef API Standard provides requirements, formatting specifications, naming conventions, and a template outline for event platforms to create VSef-compliant API endpoints, as well as setting rules on how to implement these endpoints. The VSef API Standards Guide is designed to ensure efficient and consistent data access and sharing across all VSef-compliant virtual event platforms.
Get the VSef API Standards Guide 2.0 here.
The VSef/RSDE Glossary of Terms defines industry terminology to assure consistent and comparable information provided among digital event platforms, organizers, exhibitors and data analysts. We encourage you to share the Glossary with your entire team to ensure all are aware of how terms are being defined and measured across the industry.
Get the VSef/RSDE Glossary of Terms here.
Platforms that are ready to produce exports in the required format can request a VSef Certified logo and a listing on this website.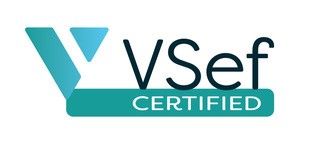 If you have questions at any point, you can contact a data specialist.